Traditional Thai Wedding Ceremonies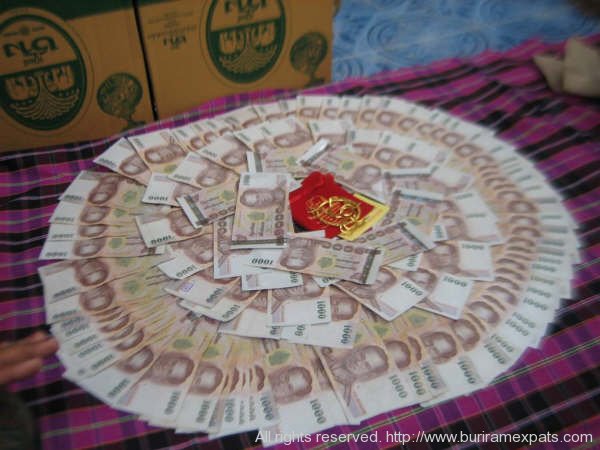 According to tradition, the religious wedding ceremony is often held at home. Monks are brought to the bride's house where the ceremony takes place and the bride and groom kneel on the floor, in front of the monks.
The traditional wedding ceremonies include the following:
Hae Khann Maak
In the morning of the wedding, guests and friends meet at the groom's house carrying artistically arranged trays of fruits and delicacies. They then proceed to the bride's house with dancing and long drums to signify their joyful agreement to the union. Traditionally, the crowd escorting the groom prevents the groom from entering the bride's house, until he has paid a suitable amount of money.
Blessing
A blessing by local monks where the couple are joined over their shoulders by a thread, originating from a statue of Buddha, then passing through the hands of all the monks. The bride and groom light a candle and 3 incense sticks together – one for Lord Buddha, one for his teachings and one for the monks. The monks conduct the blessing with chanting and prayers, which last about 45 minutes.
Pook Meu
An individual blessing called Pook Meu is given by the most respected, where the kneeling couple rest their arms on large pillows and have their wrists tied with white cotton thread, symbolising happiness, prosperity and healthy children. This ritual involves family members and close friends only.
Rod Nam Sang
A communal blessing by all present, called Rod Nam Sang, is performed with the seated garlanded couple linked by a thread, wound loosely around their heads, with their hands in front, as if in prayer. Guests, starting with the most senior, pour lustral water from a conch shell (Sang) over their outstretched hands. The water runs into silver bowls filled with fragrant blossoms and lotus petals. This is generally considered to be the most beautiful and moving part of a Thai wedding.