The Park Nangrong Resort
The Park is located in quiet and private surroundings, near the Knong-ta-moo pond, Nangrong, Buriram, Thailand.
The resort is not far away from Prasat Hin Phanomrung, which is one of the most beautiful tourist attractions in Thailand.
Last but not least, whether you need to conduct your business or escape
from the working world, The Park is the perfect gateway to an idyllic location.
Services:  Air con, Hot water, TV, Telephone, Refrigerator, WiFi internet connection.
Address: 445/10 Praditpana Road, Nangrong, Buriram 31110,  Thailand.
Tel: 044-633778 /9 , 088-3660177
Price rates: 500-1000 Baht.
Website: http://www.theparknangrong.com/
Email: theparknangrong@yahoo.com

Phanomrungpuri Hotel
Phanom Rung Puri Hotel, Buriram
Phanom Rung Puri Hotel is located in Nang Rong district, Buriram which is a historical district for more than 500 years surrounded by spectacular attractions such as Phanom Rung Stone Castle and Mueang Tam Stone Sanctuary with about 20 km. of Nang Rong district (less distance of central district of Buriram which is far from those 2 attractions 70 km.)
 Phanomrungpuri hotel and Resort  is the New boutique hotel and Resort has a architecture with Khmer style. Phanomrungpuri hotel is located at Nong Rong  district, Buriram which is about 350 k.m or 4 hours from Bangkok.
Our Accommodation has 5 Room Type. ( Superior room, Family Room, Deluxe Room, Duplex Family Room and Grand Duplex Suit)  And the hotel have special additional services such as swimming pool, Thai Massage and spa, Free Wi-Fi.
Address: 212 Prajantakhet Rd., Nang Rong District, Buriram 31110
Tel: 044-632-222 / 089-7210777 / Fax 044-631-465
Price Rates: 1,300 – 4,500 Baht.
Website: http://phanomrungpuri.co.th/
Email: info@phanomrungpuri.co.th 

Ban Soa Resort
Address: 34 Nangrong-Buri Ram Rd., Thanon Hak, Nangrong, Buri Ram 31110
Tel: 044-631631, 081-6600979, 081-6602223
Price Rates: 350 – 1,500 Baht.
Website: http://www.geocities.com/b_sor2002/


C & C Resort and Restaurant
Address: 81 Moo 1 Chokchai-Dej Udom Rd., Nong Bot, Nangrong, Buri Ram 31110
Tel: 044-657145/7
Price rates: 240 – 1,500 Baht.
Website: http://www.pda.or.th/nangrong/resort.asp
Email: birdnr 999@yahoo.com / cbird_nr@pda.or.th

Phopsuk Resort (พบสุข รีสอร์ท)
A Resort & Restaurant in Nang Rong city, located near the bus station.
The place include Karaoke as well. 
Address: Chok Chai Det Udom Road, Nang Rong District 725 Nang Rong District, Buriram 31110.
Tel: 044-624660, 044-631619
Price rates: 250-600 Baht.
Website: http://www.pobsuk.com/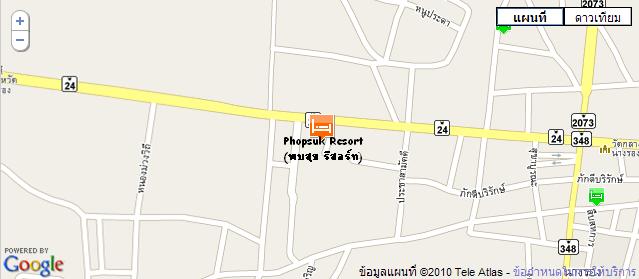 Honey Inn
Address: 8/1-9 Soi Srikun Ban Nhongri, Nang Rong, Nangrong, Buri Ram 31110
Tel: 044-622825, 081-0759972
Price rates: 200 – 350 Baht.
Website: www.honeyinn.com
Email: Honey_inn_thai@hotmail.com 
 
Nang Rong Hotel
Address: 70/25 Praditpana Rd., Nang Rong, Nangrong, Buri Ram 31110
Tel: 044-631014, 044-631465
Price rates: 200 – 600 Baht.
Website: www.nangronghotel.com
Email: j_jew11@hotmail.com
          booking@nangronghotel.com 

P . California Inter Hostel
Address: 59/11 Sangkakritburana Rd., Huathanon, Nangrong, Buri Ram 31110
Tel: 044-631277, 089-9475449, 081-8083347
Website: http://www.instantworldbooking.com/directory/Thailand/P._California_Inter_Hostel_hotels_in_Buriram.htm
Price rates: 300 – 900 Baht.
Email: california8gh@yahoo.com

Ruan Nang Rong Resort 
Address: Buriram, Nang Rong, Nangrong, Buri Ram 31110
Tel: 044-622385
Price rates: 400 – 600 Baht.
Website: www.ruannangrong.com
Email: booking@ruannangrong.com
Rim Nam Resort
Address: The Rim Nam (Lakeshore) Resort is across the street from the Nang Rong reservoir which is surrounded by a walking/jogging path and serves as a park. Less than 10 minutes to walk down town or to the evening market.
Price Rates: 400 Baht per night (Aircon) 300 Baht per night (Fan).
Services: The rooms have a small refrigerator, TV and free wifi internet. Some rooms have two twin beds and others have a king size.
Tel: 044-633328 / 081-9765244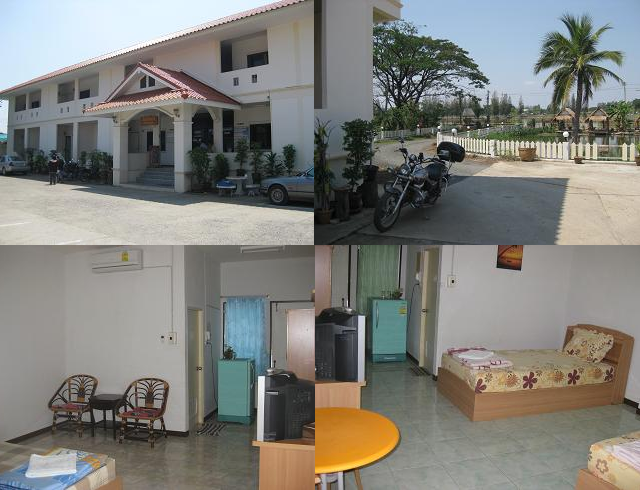 Everlasting Garden Hostel
Everlasting is a budget accommodation, built in a small compound surrounded by beautiful flowers and banana trees. These thatched roof bamboo cottages are conveniently situated in the heart of Nangrong, Buriram within a walking distance to the bus station, downtown and a reservoir.
Address: Prachasamaki Road, Nai muang Nang rong, Buriram.
Tel: 044-624224
Apakhanpinmai

Apartments
This place is right by the Nang Rong canal.
Services: This place is not a hotel,therefore, TV, refrigerator and even basic bedding must be supplied by the tenant. The rooms have only bed, mattress and a wardrobe closet.
Price Rates (Monthly Rates only): 
5000 Baht (Fan) / 8000 Baht (Aircon).
Internet wireless: 300 Baht per month.  
Tel: 089-9195455

Sakul Kaew Resort
Address: 40 Moo 11 Nangrong – Buriram Rd., Thanon Hak, Nangrong, Buri Ram 31110
Tel: 089-5833564, 044-624534
Price rates: 250 – 550 Baht.
Website: www.sakulkaewresort.com
Email: special_ram@hotmail.com
                 sakulkaewresort@hotmail.com


Louis Guest House
Address: Ban Kawaw, M5 Tambon Sadoi, Nang Rong, Buriram, 31110, Thailand
Services: Louis Guest House has two rooms and one bungalow in a nice Thai village. The rooms are simple but comfortable and clean. In each room there is a double bed and fan, and we also provide sheets and blankets. Also there is a living room to watch TV and read. Thereis a shared bathroom and toilet. In the morning the family can make a nice continental breakfast and diner if you ask soon enough. There are different kinds of drinks available for all of our guests. We also have a laundry service and telephone service.The house is surrounded by a big garden that has many fruit trees as well as a rice farm and buffalos, all of that which give a unique charm to the house. Our guests can visit the famous Phanong Rung temple, which was built in the 11th and 12th century, the same period as Ankok Wat in Cambodgia. Around the local village there are many temples that you can visit by bike.
Directions: The nereast airport is Korat at 2 hours by bus from Nang Rong, from Bangkok also it has a bus and is 5 hours.When you get Nang Rong bus station you must take a taxi or motorbike its included in the price, so don't pay when you get in. In the morning there's a bus going to the city and bus station for 0,50 euros.If you come on your own take the Lahansai direction, the village is around 15 km away from Nang Rong.
The place is located about 15 km to the south on the road to Lahan Sai.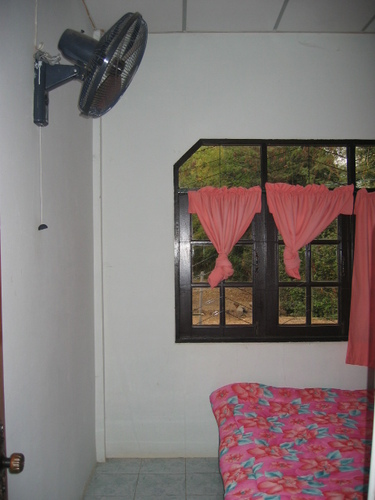 Good View Resort
Address: Located in Nang Rong in Buriram province it is a short trip to historical sigts like Phanum Rung and others.
Services: Good View Resort is a treasure in the rural areas of Thailand.
The owner also runs a laokao factory, cock-fights, pigfarm and ricefarm. Visitors can participate in the daily life in the best part of Thailand: Isaan.
Price rates:  400 and 600 baht depending on if you want a normal house or a so-called VIP house.