By Bus
There are a number of ordinary and air-conditioned buses running from Mo-chit bus terminal (Bangkok) and Buriram. There are a number of different bus companies running buses to and from Bangkok, ranging from 250 baht to 325 baht single, depending on which bus company you decide to go with. There is also a service to and from Pattaya which uses a double-decker Scandia modern air-conditioned bus which is first-class. You can't miss it because it is bright yellow in colour.
One of the most popular bus company is NCA (Nakhon Chai Air):
NCA:http://www.nca.co.th/index.php
By Train
Traveling by train there is a choice of several types of trains, ranging from ordinary trains and air-conditioned trains to diesels, rapid or express trains. Buriram train station is located near the clock tower fountain in the center of town. Also make sure you book in advance.
By Air
For faster traveling, Nok air offers a service daily to and from Bangkok, which only takes 30 minutes. Very convenient if you don't want the 7 hour journey by bus or a train ride for 6 hours. Which ever way you decide to travel to Buriram the journey is worth it with its fresh air and relaxed lifestyle. And don't forget the unique cuisine. Try it !
Through Buriram Airport. ( BFV )
Buriram Airport is a domestic airport serving Buriram province , situated 35 km from Muang Buriram heading north towards Satuk. Getting from the airport to Muang Buriram is a minor problem because there is no bus service , but don't worry contact us and we'll arrange your pick up from the airport to Buriram, Journey takes about 30 minutes and costs 500 baht.
"Nok Air" is a regional airline based in Bangkok. It operates scheduled domestic and international services. It's main hub is at Suvarnabhumi Airport Bangkok.
( Domestic Services )
Bangkok – Buriram , Lampang , Mae Hong Son , Nakhon Phanom , Nakhon Si Thammerat , Nan , Roi–et and Sakon Nakon.
( International Services )
Da – Nang ( Vietnam ) and Seoul (S.Korea ).
Nok air ( Bangkok office ).
Flight Schedule:
http://www.nokair.com/s1000_obj/contents/html/en-US/FlightSchedule.html?sCity=DMK&eCity=BFV&period=200912&x=31&y=11
Head Office
183 Rajanakarn Building,
17th floor, South Sathorn Rd.,
Yannawa, Sathorn,
Bangkok 10120, Thailand.
Tel : + (66) 2-627-2000
Fax : + (66) 2-627-9830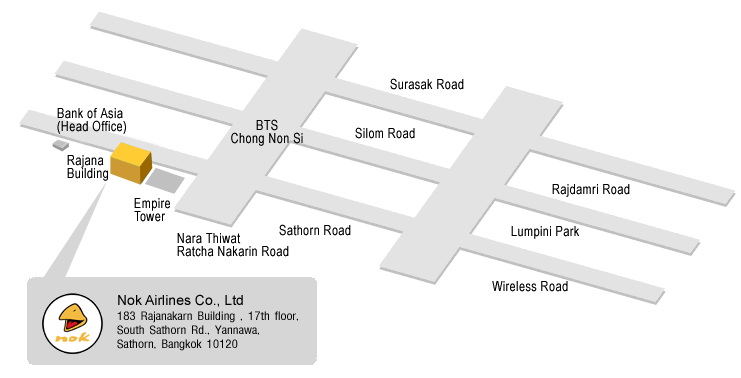 Nok air ( Buriram office )
Car Rental / Airport Transfer Service
"Buriram Expats" offer low rates on car rental include full real Insurance and is operates to full international standards and is prepared to guarantee satisfaction. All our cars are fully serviced, and in excellent mechanical condition.Contact with us for more details.
List of Public Holidays 
2010
1 January New Year's Day.
February Magha Bucha Day.
6 April Chakri Day.
13-15 April Songkran/Thai New Year.
28 April Visakha Bucha.
1 May Labour Day.
5 May Coronation Day.
1 July Mid Year Bank Holiday.
July Khao Phansa Day (Buddhist Lent).
12 August HM The Queen's Birthday.
23 October Chulalongkorn Day.
5 December HM The King's Birthday.
10 December Constitution Day.
31 December New Year's Eve.
Note:
The religious festivals are determined by the Buddhist lunar calendar and therefore are difficult to predict. The dates provided here are estimates. 
Traveling Tips
 Thailand is divided into 76 provinces. The capital city is named Bangkok (Krung Thep in Thai language) and from here you can go almost anywhere in the country. Thailand has a well functioning transportation net and it is very easy to travel here.
The international airport in Bangkok is Suvarnabhumi Airport and several airlines has their offices here. The most famous airline is of course Thai Airways followed by Bangkok Airways, but also Air Asia, PB Air, Nok Air, Orient Thai Airlines etc. also has representatives here. This International Airport is located in Samut Prakarn, just South of Bangkok. It was opened in September 2006.
The largest railway station in Bangkok is Hualampong Railway Station and from there You can travel almost everywhere in the Kingdom. A sleeping car is highly recommended. In first class you will get your own coupe for two people.
Domestic buses leaves from the Southern bus terminal, Northern bus terminal and Eastern bus terminal in Bangkok and also from Khao San Road, a famous backpacker street in Banglamphu district, not far from Chao Praya river. A so called VIP bus with air condition is comfortable.
A few of the most popular destinations in Thailand is, from North to South: Bangkok, Pattaya, Koh Samet, Hua Hin, Chiang Mai, Koh Chang, Koh Tao, Koh Phangan, Koh Samui, Krabi, Phuket and Trang. All has their own charm we recommend that You visit a few of them to find your own favorite.
Health, Safety and Vaccination
Your health is of course important, also on your vacation. With some common sense you can reduce the risks of getting an injury or becoming ill. Vaccination is one wise step, especially if you are traveling for a long time, or outside the major tourist destinations. Please check your protection against:
* Tetanus 
* Typhoid 
* Diphtheria 
* Hepatitis A and B (jaundice) Vaccine: Twinrix (a combination of Havrix and Engerix-B) 
* Japanese Encephalitis 
* Cholera/ETEC
Do always consult a qualified Physician / Doctor regarding vaccine.
Travel Insurance 

Make sure that you also have a decent travel insurance. Check with your insurance company before you travel in Thailand. Bring a insurance certificate with you, if you should end up in an accident or become ill.
Mosquitoes
Remember to protect you from getting "to many" mosquito bites, especially if you are outside the large cities. Dengue fever exists in a number of Thailand's provinces and unfortunately also malaria exist in a few provinces, even if it is safe in larger cities as well as in most tourist destinations. Long sleeved shirts and long leg trousers are recommended between 4 PM and 8 PM when most of the mosquito's are active. However, dengue mosquitoes are normally active in the daytime, but exception can occur.
STDs and HIV
Protect yourself with a condom if you are having sex with someone you meet on your trip. Sexually Transmitted Diseases (STD) including HIV exists. Especially among prostitutes. Don't take the risk!
Traffic
If you rent a motorbike, be cautious when you drive. Use a crash helmet and do not drive if you have been drinking alcohol. There are unfortunately rather "common" with motorbike accidents in Thailand. Also remember to drive on the left-hand side. If you are renting a car or a pick-up a vehicle insurance is recommended, otherwise you might have to pay any possible damages on the car or pick-up.
Use a seat belt for your own personal safety, and to avoid to pay the fine, if a policeman stops you.
Crime and Scams
Fortunately, Thailand has relative low tourist related crime rates, but some awareness is wise. Avoid to walk around with large amounts of cash in your pocket or wallet, if you don't have to. It is often most safe to keep valuables in a safety deposit box at the hotel etc. We advice women to avoid walking alone at nighttime on desolated areas like beaches etc. If someone wants to sell you precious stones as; sapphires, emeralds or rubies etc. or try to make you playing cards for money, do always say no. Otherwise you definitively risk to loose a lot of money as this often is a scam and you probably will be swindled. Playing cards for money (gambling) are also illegal in Thailand, so do not expect to much help from the police or the tourist authorities if you feel swindled.
Have a wonderful stay in The Kingdom of Thailand!