Thai Immigration Bureu

Thailand Immigration MAIN office BANGKOK 
Chaeng Wattana Immigration Office 
Address: 
กองบังคับการตรวจคนเข้าเมือง 1 (งานรับแจ้ง 90 วัน)
ศูนย์ราชการเฉลิมพระเกียรติ 80 พรรษา (อาคารบี. ชั้น 2)
120 ม.3 แจ้งวัฒนะ ซอย 7 ถนนแจ้งวัฒนะ
แขวงทุ่งสองห้อง เขตหลักสี่
กรุงเทพฯ 10210 
Immigration Office
Government Center (B)
No. 120 Mu 3
Chaeng Watthana Soi 7
Thung Song Hong, Laksi
Bangkok 10210 
Tel: 0-2141-9889, Fax: 0-2143-8228  
Call center: 1178 
Office hours: 
Monday-Friday: 8:30 am  – 16:30 pm.
Closed on Saturday, Sunday and OFFICIAL HOLIDAYS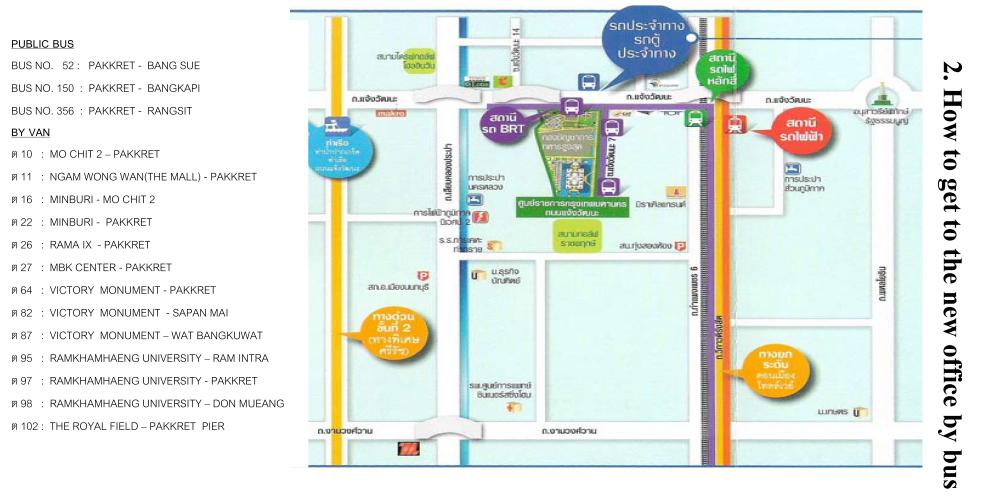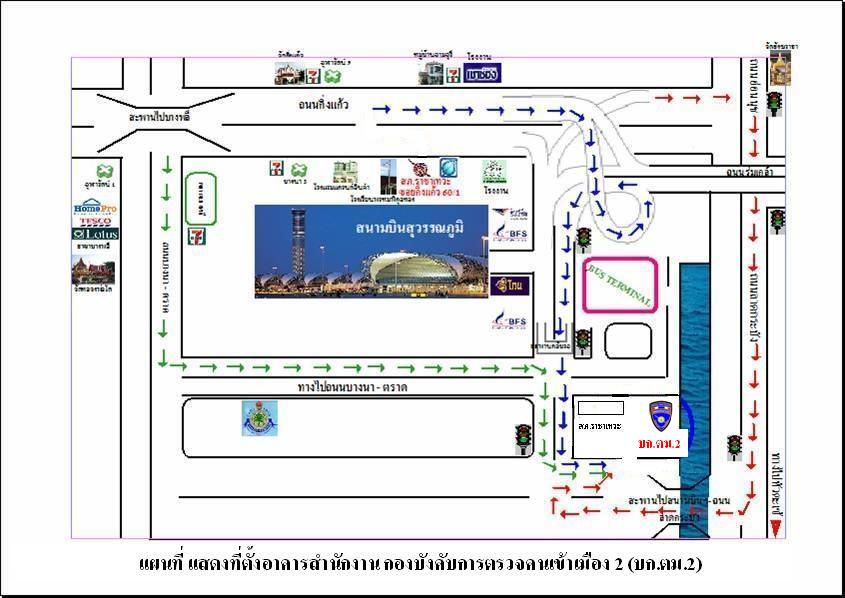 Thailand Immigration office Suvarnabhumi Airport BANGKOK 
Thai Embassies and consulates

KORAT / Nakhon Ratchasima Chok Chai immigration office.


(90 DAYS NOTIFICATIONS + VISA APPLICATIONS)

Chok Chai Korat immigration office driving route picture guide.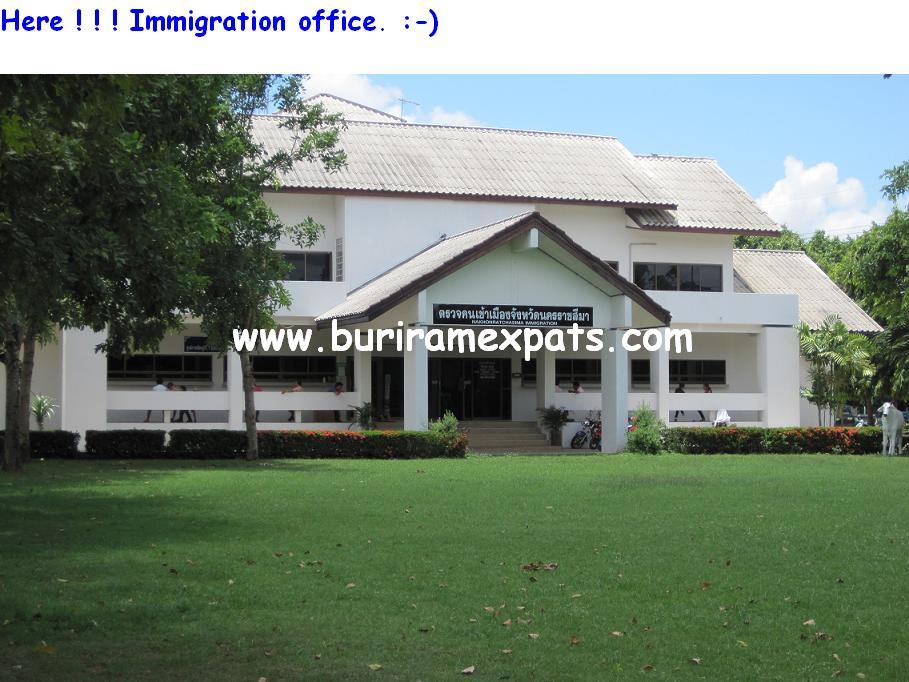 Offices accepting 90 days notification in Buriram area are:
Chon Chom Surin-Cambodia border office: 
Tel: 044-559-333 (Surin-Kap Chong Staff).  
Immigration Office Nakhon Ratchasima(Chok Chai): 
7 Moo.7 ( Near Municipality office of Dan Kwian subdistrict ) 
Dan Kwian subdistrict, Chok Chai district, Nakhon Ratchasima province 30190 
Tel: 044-375138 Fax: 044-375139 
สำนักงานตรวจคนเข้าเมืองจังหวัดนครราชสีมา: 
เลขที่ 7 หมู่ 7 ( ติดเทศบาลตำบลด่านเกวียน ) 
ต.ด่านเกวียน อ.โชคชัย จ.นครราชสีมา 30190 
โทรศัพท์: 044–375138 โทรสาร: 044–37-5139 
Location + Directions: 
If you're coming from Buriram or Surin area: 
Turn right at Chok Chai crossroad (The traffic lights). 
Continue drive about 12 km's (Near the pottery village). 
Turn right (You'll have to make u-turn in order to turn right). 
Continue drive about 1.5 km's. 
Turn right again and you will see the new immigration office just opposite the school.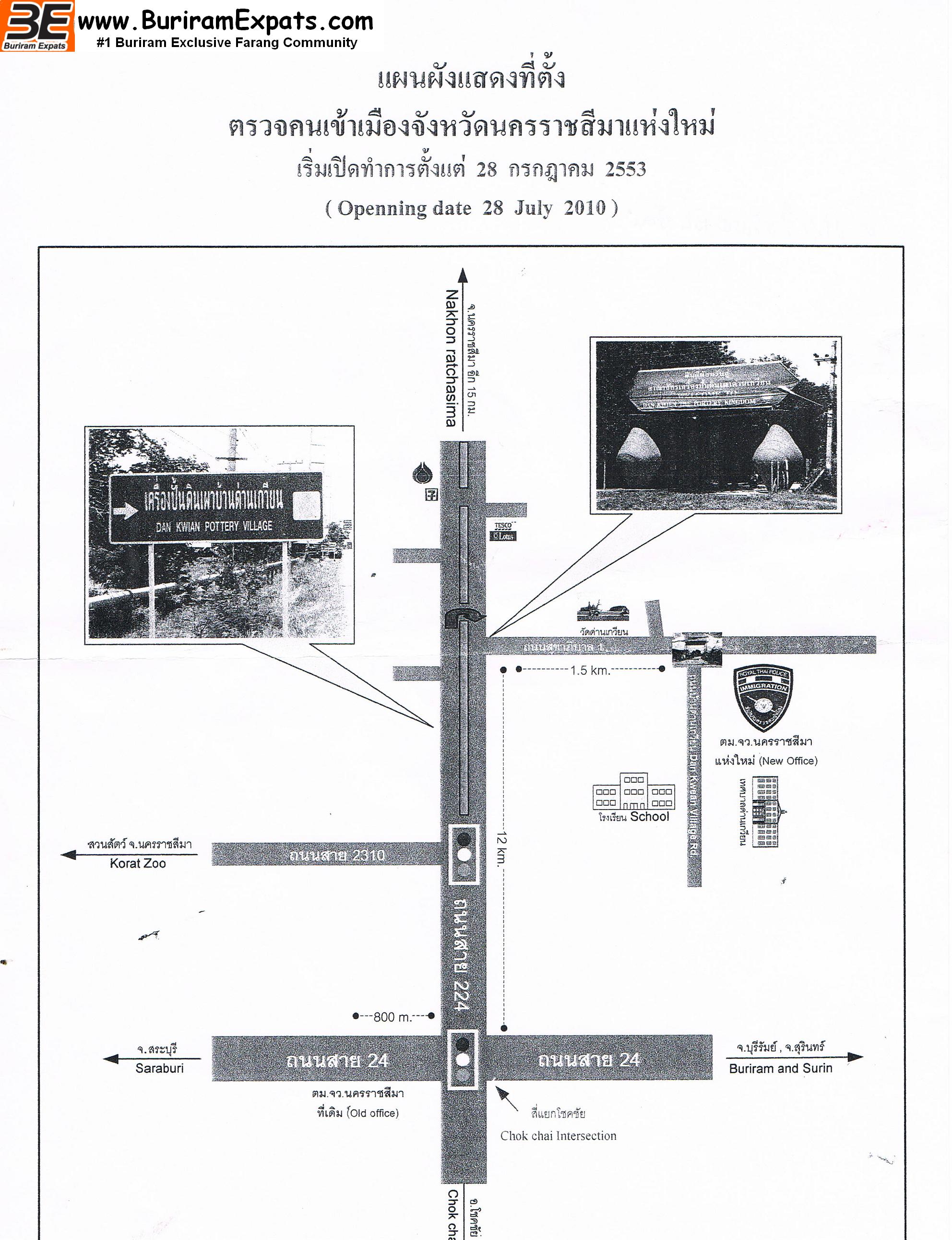 Thai Visa
For many countries, most so called "western nations", you will not need a visa to stay up to 30 days in Thailand. 
Contact your nearest Thai embassy or consulate if you are not sure. 
If you are allowed to enter Thailand without a visa, you can extend your stay with up to seven days in an immigration office in Thailand. 
Nationals Allowed to Enter Thailand 
for Maximum 30 Days without Visa with a Return Air Ticket Dated for less than 30 days. 
Australia, Austria, Israel, Brazil, Bahrain, Brunei, Canada, Denmark, Finland, France, Germany, Greece, Hong Kong, Indonesia, Ireland, Israel, Italy, Japan, Kuwait, Luxembourg, Malaysia, Netherlands, New Zealand, Norway, Peru, the Philippines, Portugal, Singapore, Spain, South Africa, South Korea, Sweden, Switzerland, Turkey, United Arab Emirates, United Kingdom of Great Britain and Northern Ireland, United States of America, and Vietnam. 
Nationals of the above-mentioned countries may stay up to 30 days in Thailand without a visa, provided that they hold a valid passport and enter Thailand for touristic purpose. Moreover, these nationals do not need to apply for a transit visa, providing they are in possession of a confirmed ticket out of Thailand. This regulation came into effect in February 1995. Countries which have concluded an agreement with Thailand on the exemption of visa: New Zealand, Republic of Korea. Nationals of these two countries who are holders of ordinary passports may stay 90 days in Thailand without a visa. Period of stay in Thailand according to visa classification.
  
Visa upon Arrival
List of countries whose nationals may apply for a visa at the Immigration Checkpoints for touristic purpose only and for a period not exceeding 15 days: 
Bhutan, China, Cyprus, Czech Republic, Hungary, India, Kazakhstan, Maldives, Mauritius, Oman, Qatar, Poland, Saudi Arabia, Ukraine. 
Important note!  
Since November 2008 a tourist was offered only 15 days "extra" stay in Thailand if he or she was passing a transit to another country. Earlier, tourists were offered 30 days. 
We recommend that you apply for a visa if you intend to stay a little longer in the country! 
A visa is valid until 90 days after issuance. So you'll have to arrive in Thailand within 90 days from the time the visa was issued. 
Transit Visa

A transit visa is valid for a maximum of 30 days and can not be extended. A ticket that confirms an onward destination is also required. You are NOT allowed to work in Thailand with a transit visa. A transit visa can be issued at a Thai embassy or consulate. 
Tourist Visa
Any Thai Tourist Visa will be issued, free of charge, until 31st March 2011.
A tourist visa is valid for 60 days and can be extended with a maximum of 30 days in an immigration office in Thailand. A tourist visa can be issued at a Thai embassy or consulate. 
Multiple Entry Visa

In some Thai embassies and consulates, you will be able to apply for a visa with "multiple entry" (double or triple) which makes it possible to just pass the border after 60 days in Thailand two (double entry) or three (triple entry) times. (or 60+30 days if you have extended your visa at an immigration office) For further information please contact a Thai embassy or consulate. 
Non-Immigrant Visa

There are a number of categories. A few examples: 
* Business visa (B)  
* Dependent visa (O) (married to a Thai citizen) 
* Diplomatic visa (D)  
* Expert visa (EX) 
* Investor visa (IM)   
* Mass media (M)  
* Missionary (R)  
*  Teaching (ED) 
A Non-Immigrant visa will normally be issued for 90 days at the first time. Some of the mentioned visas can then be extended up to a year if the applicant has a reference, and certificates to show that they meet the criteria. For further information about Non-Immigrant B visas, contact a Thai embassy or a Thai consulate. 
Immigrant Visa 

Only a very limited number of people is are granted this visa each year. It can only be issued by the Ministry of Interior with permission from the Immigration Division of Thailand. Several certificates, such as health certificate, possible criminal record, statements of your finance etc. has to be submitted together with the application. You will also need to have at least three prior years with a non-immigrant visa with only one-year-status. 
Laws, regulations, Police Orders, etc. related to visas, immigration matters, and work permits
 
Visa Links: Thai embassies/consulates
Permission to stay, extension of stay, re-entry permit and other immigration matters
Visa Period of stay allowed by Immigration Taken from "Thaivisa" website.
Immigration Bureau's rules for annual extension of stay – English language
Notes:
As of latest update of the website, the Immigration's website was not yet updated
in accordance with the new rules of National Police Order 777/2551. 
Work permit
1. Camerata's Guide to Permanent Residence Great report/forum member of "Thaivisa" website. 
2. Application for Permanent Residence – Immigration website 
3. dbrenn's story of Thai citizenship application Great report/forum member of "Thaivisa" website. 
4. Thai citizenship through Thai husband Great report/forum member of "Thaivisa" website. 
5. Passport offices in Thailand 
This list of links will be added to as occasions arise.You should also know the Thai visa regulations are always changing and you should check directly with immigration office before making any serious move regarding your arrangment of visa to stay in Thailand. 
If anybody has a useful link to a relevant document, please send us an email.
 
Visa Run

A so called visa run, to extend a present visa, or get a new one, can be made to any of Thailand's neighbor countries; Malaysia, Laos, Cambodia or Laos. Maybe you might want to fly to China (Hong Kong), Taiwan, Singapore, Australia, New Zealand etc. and combine the visa trip with a holiday abroad? 
"Buriram expats" offer "Visa run" service as well. 
You can do your Visa renewal easily and in comfort with "Buriram Expats". 
Buriram is very close to the border of Cambodia near Surin. 
The trip all together takes under 5 hours (Buriram-"Kap Chong" border – Buriram). 
Please contact us to book your next "Visa Run" trip. 
Work in Thailand
To work as a diving instructor, in a bar or restaurant, as a web designer, salesman, in telemarketing or as an IT consultant etc. can be attractive to many foreigners in Thailand, due to the pleasant climate and the friendly people, but there are also some regulations and laws that we recommend you to notice. 
Regulations and How to set up a Company

As a non Thai citizen there are the same basic regulations if you are becomes an employee or if you set up your own company. 
1. You will need a Non Immigrant Visa to be able to obtain a work permit in Thailand. You will have to apply for this visa on an embassy outside Thailand. The first time that you apply you will only be able to get a three month visa, but after this you will be able to apply for a one year Non Immigrant B visa. Anyhow you will have to leave Thailand and pass the border every third month or visit the Immigration Authorities. 
To apply for a Non-Immigrant B visa you will need to have a letter of employment from the company or from a lawyer etc. If you are setting up your own company. With a tourist visa you are NOT allowed to work in Thailand. 
2. When you have a Non Immigrant B visa, you will be able to apply for a work permit in Thailand. You will also need to provide a CV, a recently issued Thai health certificate and three passport photos. 
3. To set up your own company in Thailand (Thai Private Company Limited or Thai Co., Ltd) you will need seven shareholders, of which Thais has to own at least 51%, except if you are an American citizen. The company also need a minimum capital of THB 2,000,000. 
4. You can of course do all the paperwork by yourself when you are setting up a Thai Co., Ltd, but you then will need someone with good skills in the Thai language to complete all necessary forms. Then you will have to contact the authorities by yourself to hand over these applications. The total cost, if you'll do this all by yourself is just over 15.000 Baht. 
5. To be able to register VAT you will need a number of documents, for example from the landlord of where your office is located. You can get further details information from the tax authorities in Thailand (Revenue Department) or a lawyer. 
To turn to an expert (lawyer etc.) to set up your company normally costs about the double; 30-70,000 Baht including fees to the authorities. To set up a company in Thailand is normally a process of 30-40 days. 
Income Tax


Thailand uses a progressive (graduated) income tax scale. The tax is calculated upon a sliding scale from 5-37%. All non-Thai citizens working in Thailand, has to pay an income tax based on a predetermined minimum income. Europeans, Japanese, Americans, Canadians and Australians has to tax, based a minimum income of 50,000 THB, or more. Other salary requirements applies to citizens from other countries. 

Thailand Tax – Links
Thailand Revenue Department – Home English Language   
Thailand Revenue Department – Overview 
Thailand Revenue Department – Responsibilities 
Thailand Revenue Department – Vision 
Thailand Revenue Department – Mission 
Thailand Revenue Department – Strategies 
Thailand Revenue Department – Organization Chart 
Thailand Revenue Department – Our Administration   
Thailand Revenue Department – Annual Report 
Thailand Revenue Department – Personal Income Tax 
Thailand Revenue Department – Corporate Income Tax 
Thailand Revenue Department – Value Added Tax 
Thailand Revenue Department – Specific Business Tax 
Thailand Revenue Department – Stamp Duty 
Thailand Revenue Department – Statistics 
Thailand Revenue Department – Tax Identification 
Thailand Revenue Department – Tax Agent 
Thailand Revenue Department – Download 
Thailand Revenue Department – Tax Clearance Certificate 
Thailand Revenue Department – Rights & Duties of a Taxpayer 
Thailand Revenue Department – Income Tax Guide for Foreign Company 
Thailand Revenue Department – Exporter 
Thailand Revenue Department – SMEs 
Thailand Revenue Department – ROH 
Thailand Revenue Department – Transfer Pricing 
Thailand Revenue Department – News 
Thailand Revenue Department – Back Issues 
Thailand Ministry of Commerce 
Thailand Office of Small & Medium Size Enterprise Promotion 
Thailand Securities & Exchange Commission 
Thailand Ministry of Foreign Affairs 
Thailand Department of Intellectual Property 
Thailand Department of Business Development 
Thailand Department of Export Promotion 
Thailand Department of Foreign Trade 
Thailand Department of Industrial Promotion 
Thailand Department of Internal Trade 
Thailand Department of Industrial Works 
Thailand Department of Employment 
Thailand Department of Trade Negotiations 
Thailand Industrial Estate Planning Authority 
Thailand Ministry of Information & Communications Technology 
Thailand Ministry of Education 
Thai Industrial Standards Institute 
Tips for "Long Stayers" in Thailand
1) Visa – A Non Immigrant Visa or a Double/Triple Entry Tourist Visa is good for expats and "long stayers". Read more in the Visa section. 
2) Economy – If your economy is limited, it is good to have a budget to be able to see how much you can spend per day. It is not fun ending up with no money in Thailand. 
3) Vaccinations – Three injections with Twinrix will protect you against Hepatitis A for at least 20 years and for at least 5 years against Hepatitis B. Make sure you are vaccinated against tetanus. Please consult a doctor for further advice. 
4) Safety: 
* Drive carefully! The traffic in Thailand is intense. Use a crash helmet if you are driving a motorbike and do never drink and drive. 
* Make sure that your drinking water is of good quality and drink a lot of it so you don't get dehydrated. 
* Protect yourself from mosquito bites so you do not catch dengue fever or malaria (it is still exists in some parts of the country). 
* If you get a wound, take care of it (also small ones) Use a mild soap and disinfected water. Afterwards iodine etc. can be wise to use. Infections are rather common in a tropical climate. 
* Avoid big jellyfishes and do not step on sharp corals while swimming. 
* Use a lot of protecting sun screen while sunbathing. Be sure to have a valid insurance if you should end up in an accident or get sick. 
* Install a good burglar alarm and use good door and window locks if you live in a house. Keep your values and money as safe as possible 
* Alcohol – It can be wise to be a little moderate with drinking alcohol wherever in the world you are. Some people who move to Thailand tends to drink more than in their home countries. Partying is fun, but to drink frequently, for a long time can be bad for anyone's health. 
* Work – Be sure that you have a work permit, so you will not find yourself in any trouble with Immigration authorities or the police. Give your business ideas a thought before you decide to start a company. 
*  Thai language – Learn at least the basics about speaking Thai. There are schools and individuals, where you can study the Thai language at a reasonable price.